Nellie Stone- back from the Birke Trails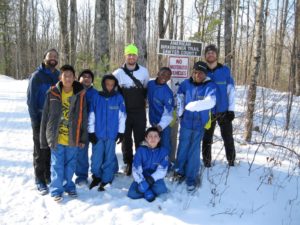 It's not easy to find snow these days but last week- the Nellie Stone Ski Team went looking- and found it! The two Nellie Stone Ski Team coaches, along with two volunteer chaperones from the Major Taylor Cycling Group loaded skis, snow pants and 6 pairs of jumpy legs explore the famed Birkebeiner Trails. Their trip included a smorgasbord of skiing activities including training, a race at Telemark, a night skiing experience, and all the other fun components of team travel like card games, pizza, and pancake breakfasts.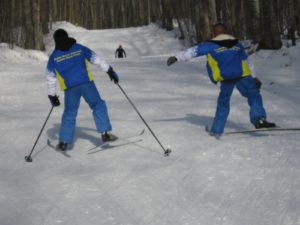 The prestige of their final destination did not phase the boys who were mostly just thrilled to headed out on a skiing adventure. Plans for the training trip were made at the beginning of the season, but in the end, couldn't have come at a better time. With dismal skiing conditions in the Twin Cities, Head Coach Miller was just excited to get his team on snow.
After arriving late Friday evening, the boys rose on Saturday for training before suiting up for their first race. Four of the six boys sported the Nellie Stone blue and yellow and participated in the Telemarker Challenge. The team was outpaced on the trails by the more experienced competition- but that didn't dampen their spirits. "I was really happy that they were not discouraged," said head coach Jon Miller who watched his athletes maintain their enthusiasm even as they took some spills on the course.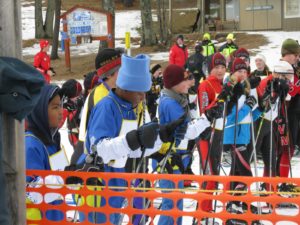 The kids wrapped up Saturday with a night ski. Under the full moon, the kids laughed and called coyote howls on the trails- and some were echoed by other evening skiers. The kids may or may not have been successful in roping their coaches and chaperones into an evening snowball fight – a full moon and snow will make you do crazy things…
The kids were raving about the trip the entire ride home. "It was great to just get them to snow. They really needed that," said Coach Miller. "What is ideal is if they come away from this experience just wanting more." With their appetites whetted for wooded trails and snow, hopefully this is not their only trip to Hayward. A great many Birkebeiner races may lie in these kids futures…