Major Taylor Skis! New partnership on snow.
January 18, 2012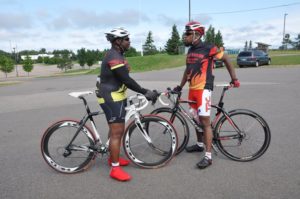 As winter still putters along, the Major Taylor Cycling Club is poised to expand their riding season…onto snow. Replacing helmets with hats, Major Taylor will be snapping out of their clip-less pedals and into ski bindings, taking up the sport of cross-country skiing, for the first time. "We started as a cycling organization to increase African American participation in the area," explained one of Major Taylor's founding members Anthony Taylor who has spearheaded the cross-country skiing effort. "Cross-country skiing is an extension of biking. You experience the same long gliding sensation, it's both a social sport and silent sport, it's a wonderful cardio vascular workout- it is essentially the perfect complement to the cycling season."
Collaborating with the City of Lakes Nordic Ski Foundation, Anthony and Ski Foundation director John Munger have put together a cross-country skiing package that includes instruction, equipment rental and the Luminary Loppet candle lit skiing experience that is part of the City of Lakes Loppet Cross-Country Ski Festival. "We want young people and adults to be involved," said Anthony who says about 12 folks have signed up for the program. "This is a chance to bring the community together." A few of the more experienced Major Taylor skiers, Jerry Williams and Jemiah Etch, are pushing the partnership deeper and volunteered as chaperones on the Nellie Stone Middle School Ski Team training trip accomplanying the boys on their first foray into the woods.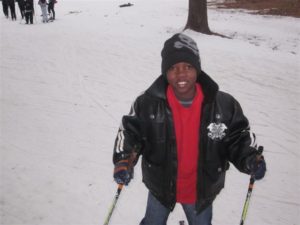 Anthony crossed paths with the Nordic Ski Foundation last winter when he brought his kids to Wirth for some winter activity. "I was looking for something for my kids to do outdoors," recalled Anthony Taylor. "I was impressed to see the amount of African American and Somali youth on skis." Anthony was eager to get his kids involved. "I think one thing that happens to the African American community is that we assume that if we pursue a sport like skiing, it will not be with other black families. But here, that was not the case at all."
Anthony is particularly enthusiastic about the instruction that's being offered to the group. "Cross-country skiing is one of those sports where you can mess around and feel like you're doing it- but in reality, we all could use some help." Anthony dabbled in the sport for the first time last season, but is looking forward to honing his skills- strides and glides to last a lifetime. "Like biking, cross-country skiing is a lifelong sport. We are drawing many parallels here- the message being to stay moving your whole life long."
The groups joins the Loppet Cassical Group for coached instruction on Thursday evenings, 6:30 p.m., and meets informally on Sunday for member led workouts. Instruction is provided on all levels. Rental equipment is available. Contact Anthony at 612-709-9138 or Anthony@majortaylorcycling.com for more information.