Elementary Ski Programs – keeping spirits high for snow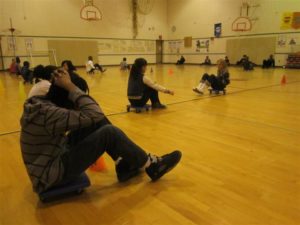 "Skiers take your marks…. TWEET!" the whistle blew and the kids were off- however they weren't skiing- they were scooting. Without any snow- the youth at Bryn Mawr Elementary school have gotten creative for cross-country skiing practice- and today they were pretending to be Paralympic cross-country skiing athletes.
The Nordic Ski Foundation runs cross-country ski programs in six North Minneapolis elementary schools. In a typical winter, the Nordic Ski Foundation, working collaboratively with the physical education instructors, facilitate eight weeks of cross-country skiing instruction with fourth and fifth grade students. The Foundation provides skis, poles and boots that live on site at the schools, and the kids wrap up the season by participating in the Minne-Loppet- a children's ski race that is part of the City of Lakes Cross-Country Ski Festival. The program also includes a nutrition component where the students learn how to healthily fuel active skiing bodies.
"Are you doing your snow dances?" asked program Director Margaret Adelsman of the Bryn Mawr 4th graders as they assembled in the gymnasium. The kids nodded shyly. With winter sprouting more sticks than snow Margaret, a former college skiing star and longtime coach, has had to formulate new skiing instruction made for "dryland". "We skied on the grass the other week," she said, but even that gets old after a while.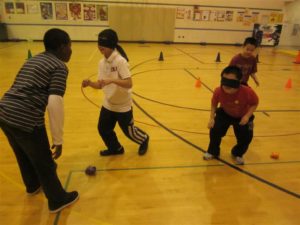 Today the kids were in for a treat. Drawing parallels to the upcoming Paralympic Nordic Ski competition coming to Wirth in a few weeks, the class launched into imagining what it would be like to ski with some form of physical disability. "What would it be like to ski without your arms? legs? eyes?" Margaret asked the class. The kids hemmed and hawed. "Impossible?" Silence. "Well, let's give it a try…"
The kids partnered off and, using scooters, tried to maneuver between cones on the gym floor alternatively losing ability in their arms and legs. Lastly, the students blindfolded one another and were challenged to guide their partner through a ski course involving hills and turns- and ultimately help their partner eat at a feed station at the end of the course.
"What was hard about that?" asked assistant coach Ingrid Remak after each pass. "Your muscles get so tired!" remarked Kue Thao in exasperation. "It was so noisy- it was hard to hear my guide," said Jennfier Dakota who skied with the program last year. "I panicked. I kind of lost my senses," said Daveron Granberry. "I was pretty nervous that if I was skiing I might smash into things." He then went on to compliment his guide for doing such a good job at leading.
Nearing the sound of the bell, there was only one item left on the agenda- a snow dance. In the last ten seconds, the class flailed, bounced and twisted for winter- a dancing storm convincingly strong enough to bring in a blizzard…