We're ALL Skiing- Following the Flow at Wirth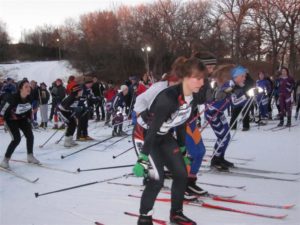 If you haven't been to Wirth lately- you've been missing quite the party. 1.5 kilometers of snow, 15 high school teams, Loppet Adventure Camp, the Minnesota Youth Ski League, head coaches, assistant coaches, guest coaches, 40 ski ambassadors, over six adult ski groups representing 3 Twin Cities Ski Clubs, Park Board private lessons, college racers home on winter break, competitive athletes, families recreating, a father and son playing ski-ball and a single skijorer and his dog… did I forget anyone?
Tucked back beyond the Par 3 lot is a ribbon of white that slinks over a select section of Wirth's dipping topography and connects just over a kilometer later. This course is the most trafficked ski course in the city- and the only one at that. The loop began as a .8 kilometer course, was expanded in late December to 1.5k and groomers are currently blowing snow to bring it to its full 3 kilometer length. The busiest times are 10am- noon. Afternoons are the least traveled, and activity picks up again in the evening with various adult clubs. Every expansion has been received as a God-sent by the area's skiers adding elongated glides and a breath of fresh air to the bustling track.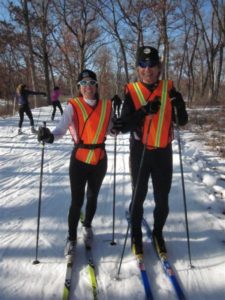 Coming off last year's winter which dumped snow to spare, the lack of white material this year has left skiers feeling robbed and anxious. However- the good news is that what the Wirth ski course lacks in length, it makes up for in hills. "It is an extremely technical loop," said John Swain who skied competitively at Colby College and has coached extensively for the Foundation. Fellow Loppet Ski Club coach Gene Kay reassured his athletes that the course lends itself well to interval training. "We tend to push ourselves harder on terrain like this. Plus we can mix in beneficial cross-training with our skiing routine. We are still on track to have really successful ski seasons."
Snow making capabilities are relatively new to Wirth. The Nordic Ski Foundation was instrumental in building the snow making facilities in 2005. Since then the grooming squad has managed the course. However, with warm weather lingering in the city, they can only watch the thermometers and keep their fingers crossed. If the temperature dips below freezing, snow can be made. If not, well, they just have to wait. While high school skiers especially are disappointed to see their seasons compromised, a little snow it is better than nothing. "When I was in high school we'd still be dryland training," remarked former South High skier Becca Blumenshine seeing the familiar late December leaf litter in the forest while gliding by. "These kids don't realize how lucky they are."
While the heavily trafficked course may lack the "meditative" qualities associated with a long solo ski, there is a synergy and comradely produced by the users sharing this special loop. "It's kind of like a New York City subway ride" said Ingrid Remak who returned to Minnesota specifically for winter after spending many years in the Big Apple. "You hop into the tracks, and despite the crowded course- there is a flow and upbeat demeanor on the trails. There are hundreds of minute social considerations and movements you make on the course to accommodate the traffic and I think that is bringing the ski community closer- literally, but spiritually too. We're all in this together."
However, despite the optimistic attitudes among many skiers, the Nordic Ski Foundation is not above begging for snowfall. Currently, the Foundation is endorsing any sort of bargaining with Mother Nature to make the flurries fly. "Pray for snow, do a snow dance, seed some clouds, whatever it takes" encouraged Foundation Director John Munger. Until then, join the grand rounds. With the loop intact, it is hard to miss anyone out there…