Loppet goes Hennepin!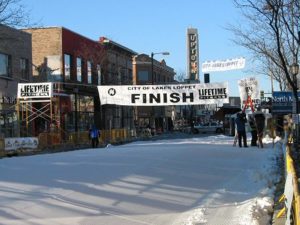 Minneapolis, MN- The City ofLakes Loppet is celebrating its tenth anniversary with a move to Hennepin Avenue in Uptown.  Participants will ski from Lake Calhoun and up Lake Street before turning down Hennepin with a grand finish in front of Kitchen Window.  Event Headquarters will be based in Calhoun Square. The weekend events will radiate from the lagoon on Lake of the Isles and Theodore Wirth Park, with all courses finishing in Uptown.  
"Minneapolis is one the few cities that can host an event like this," said Nordic Ski Foundation director John Munger.  "We have the climate, landscape and culture that makes skiing in the city possible.  The Loppet course unites both the urban and natural environments of Minnepolis.  The last time we finished on Hennepin was in 2005.  We are thrilled to be bringing the celebration back to the heart of Minneapolis."
With the move, the City ofLakes Nordic Ski Foundation is expecting the event to grow beyond 2011's record of 10,000 participants and 40,000 – 50,000 in total attendance.  "We genuinely looking forward to the event," said Associate Director of the Uptown  Association Megan Orr.  "On these cold winter days, we all need to come together like this to stay warm."  The Nordic Ski Foundation is also excited to announce its partnership with Park Nicollet on the new Park Nicollet Luminary Loppet, part of Loppet Saturday's Mall of America Family Day. 
Read about the return to Hennepin Ave. on the Star Tribune's page http://www.startribune.com/local/133956928.html
More information:    Visit www.cityoflakesloppet.com or call Outreach Coordinator Ingrid Remak at 612 604-5334.