The Greggs guest coach the Anwatin Ski Team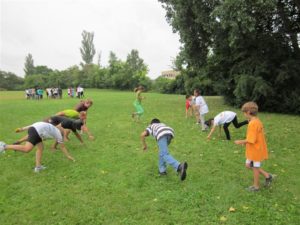 It's not every day that you receive expert ski instruction from some of the fastest skiers in the country. But that is exactly what happened to the Anwatin Ski Team last week when former Olympian and Olympic hopefuls Caitlin and Brian Gregg showed up to lend their advice, expertise and enthusiasm, as well as some training advice, to the Anwatin Ski Team as they prepare for the upcoming Trail Loppet. "We love coaching anyone who is enthusiastic and loves begin there," commented Brian. "We just want to spread the joy of skiing and make it fun."
Caitlin and Brian both came to skiing in their own separate ways. As a sophomore in Vermont, Caitlin joined the high school cross-country ski team because she heard there was a great coach. Brian on the other hand grew up splitting skis with his twin brother: one boot, one ski and one pole for each, before he started racing in sixth grade. Brian was coached by a string of former Olympians at his high school while Caitlin remembers her high school coach, though not a famous skier, as " one of the best; a true ambassador of endurance sports."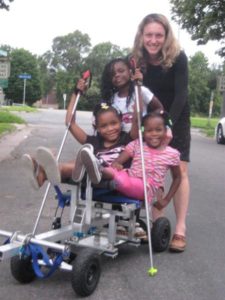 Despite their exceptional talent and Olympic aspirations, Caitlin and Brian have opted out of snow crested mountains and chosen to embed themselves in the Twin Cities – a place with not only great ski trails and a diverse and rich cultural community. Caitlin has been living in Minneapolis for seven years, and Brian moved here 3 months ago. "She trained at Theodore Wirth Park part of the time while she was training for the Olympics, the same trails we all trained on," said friend and skiing aficionado Mary Vancura. "I think it is great that they are so involved in the Twin Cities skiing community."
Now they are in the thick of it all. Recently moving a stone's throw from Theodore Wirth Park, the couple is sandwiched between arguably one of the best trail networks in the state and the North Side community that, at large, does not ski. With an infectious fever for their sport, the couple has begun to spread their love for skiing in their neighborhood. They have brought roller skis, boots and poles into their front yard for the neighborhood kids who are taken with the exotic sport.
As Caitlin and Brian continue to be coached themselves, they appreciate the importance of good coaching in a young skier's life. "Essentially, a ski coach is a motivator," explained Brian. "Helping people find the joy in cross-country skiing is the challenge of a developmental ski coach. Down the line, a good coach is then able to use that joy to help the skiers meet their goals."
The Greggs balance a busy schedule, but there celebrity ski status does not keep them off the trails. Between training camps and running their own private coaching clinics, the couple is committed to developing and inspiring young skiers in Minneapolis. Visiting Loppet Adventures Camp, paddling with the middle school racers in the Tri-Loppet, working with the Minnesota Youth Ski League, and making guest appearances at various high school practices, the Greggs are committed to showing kids not only the joy of skiing, but also that your dreams can be reached in your own back yard.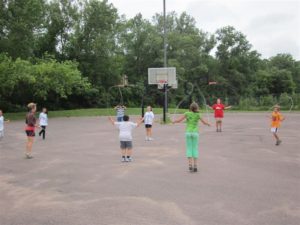 The Greggs showed up last week to the Anwatin Ski Team practice with a smorgasbord of activities for the young athletes. From jump rope to pole walking, to balance drills to a tennis ball biathlon game, the Anwatin Ski Team got a taste cross-country ski training activities that even the pros swear by. "If you bring enough variety to practice, you'll find that everyone is good at something," Caitlin remarked, and has even brought her dog to the Anwatin practices to give the kids a chance at skijoring.
While the Greggs may be hard to catch for coffee between training camps and volunteering their time with youth programs, there is a good chance you will see them running, roller skiing and skiing the trails in Theodore Wirth Park this year. Although they are fast on the course, they are fellow skiers just like you, and would certainly offer a little V2 advice on the trails…