Loppet office welcomes new Program Coach Allie Rykken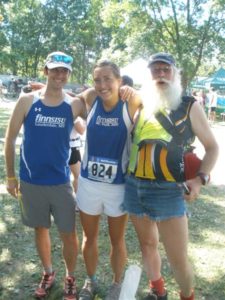 "It rhymes with chicken," Allie said as she introduced herself and gave her new co-workers a favorite trick for remembering her last name.   Allie Rykken has just joined the office ranks as official Program Coach of the Loppet Youth Programs.  She will be coaching the Anwatin Ski Team, facilitating several other elementary school youth programs, leading the Trips for Kids mountain bike excursions and growing a number of other initiatives focused on putting young people on skis guiding them along on a path to lifelong health and recreation.
Allie's enthusiasm for skiing extends far beyond her time on the trails.  Allie's mother was instrumental in establishing the Minnesota Youth Ski League and her grandmother is known for coaching the University of Minnesota Ski Team to two National Championships in the 70's.  "She was a skiing stud," Allie chuckled adding that her grandmother continues to cruise the trails.
Growing up in the Twin Cities skiing community, Allie competed in high school with Minnehaha Academy, trained with the St Paul cross-country ski club Saukko in the summer, and was an active member of the University of Minnesota Ski Club during her time as a Gopher.  Majoring in art, Allie will bring her own creative stroke to the program.  With her new title of "Coach", Allie will get to make her own mark on the sport she loves.  "I've always loved the City of Lakes Nordic Ski Foundationand feel that they have had such an influential role in skiing in the world of skiing.  It is great to work for an organization that supports the things I want to do." 
 Between coaching the youth programs and training on the side, Allie may see more skiing this winter than ever before.  "I love working with skiers" Allie said as she wrapped up her time at Finn Sisu the weekend prior to entering Loppet mode, "especially people who will and play with me for hours."