Loppet Dryland has begun!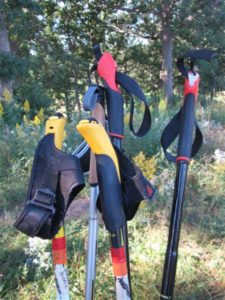 Time to get out the ski poles.  This Tuesday over thirty skiers anxious for snow arrived at the Par 3 building to begin core strengthening, muscle toning, and endurance building- all in anticipation of the upcoming ski season.  Led by veteran coaches Gene Kay and Marc Beitz, workouts will  include pole hikes, bounding, hills, balance drills, longer runs, roller skiing and boot camp like exercises.  "You know what they say," one of the participants chuckled "no pain no gain."
Both coaches, Gene and Marc, have significant skiing experience.  Gene coaches at Wayzata and worked with Go! Training over the summer where some of Minnesota's fastest young skiers train.  Marc was a nationally ranked skier out of college and currently coaches at Benilde St. Margaret's.  The two are committed to creating a diverse skiing curriculum and have set up a schedule that includes long weekend bike rides as well as a parking lot roller-ski derby. 
The club's social organizer Cynthia Osterling is getting pot-lucks, additional work-outs, and volunteer days arranged for the group.  "We are not a class, we are a club.  We get to not only improve out skiing, but we get to build a community as well."  She brought a post practice watermelon for the first day, perhaps one of the last of the season.
But with fall in the air- all sight are set on snow.  The group has just gotten started and there is still time to join! Register here: https://www.loppet.org/adult-programming/loppet-ski-club/fall/