Anwatin Mountain Bike Team competes in Elk River
August 2, 2011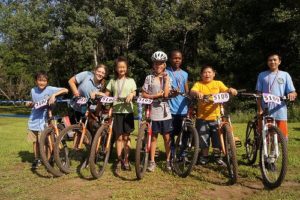 Not too many people were around Sunday morning when Coach John Swain pulled his 15 passenger van into the early morning quiet of Theodore Wirth Park. Nobody, that is to say, except for the 7 eagerly awaiting Anwatin Team mountain bikers ready to take to the trails. Not the least bit sleepy, the 7 a.m departure was just another exciting mountain biking excursion. This time the team was headed to the Single Track Attack in Elk River, their fourth mountain bike race of the season.
"It was hot, humid and early," remarked Swain. "And the team was feeling great." Sporting their conglomeration of lucky racing outfits, the team settled in for the 40 min ride to the competition. Fueling up on Cliff Bars in the back, Swain could hardly follow the conversation as the athletes talked about everything from their race strategies and nerves to recounting stories of the biggest fish they had ever caught in the city lakes.
Just under an hour later they arrived at the race. Hopping on their bikes, pre-race warm ups were becoming comfortable and routine. They even treated the mass start like it was old hat. "This was a good course for us," said Swain. "It's a lot like Wirth; tight turns and short steep hills." The three mile course took the team members anywhere from 20 to 30 minutes to complete.
The kids came off the course breathing heavily and streaked with mud- good signs of races well ridden as far as their coach was concerned. Raequan Wilson and Mike Xiong had great times, placing 2nd and 3rd overall in the 14 and under competition. KaoZong Vang and Pada Thao placed 2nd and 3rd in the girls 11 and 12 age category, and KaoZong earned 16th overall in the competition. Record breaking falls and mud slides among other participants didn't win any medals, but produced plenty of memorable moments on the trail.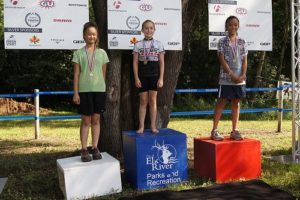 After the kids competition, the team packed up to head back to Wirth. But that wasn't the last that Elk River was going to see of the Anwatin Mountain Bike Team that day. After driving the kids back, Coach Swain returned to the trails, competing in the adult competition, a twenty mile course that took experienced mountain bikers nearly two hours to complete. When Raequan and Mike found out he was going to race they pleaded to come watch. Although he would have liked to invite them along, Swain steered them away knowing it could turn into a marathon day for the young bikers.
Swain competed, coming away with his own scratches from encounters with the terrain on the trails. "It was hard, but it was a lot of fun." Swain chuckled and recounted his final last and epic battle with Loppet Farview Coach Scott Kyser on the trail. "I fell; Scott went the wrong way. All sorts of things can go wrong when you are mountain biking."
Despite trail mishaps, Swain came away victorious, exhausted, and very hungry. "I got a Sonic milkshake. Not just any milk shake, a sundae milk shake, with hot fudge." Swain is looking forward to the upcoming competition in Duluth this weekend. Until then, practice resumes as usual and the Anwatin Team will continue to train for their last mountain bike race of the season: the Border Battle in River Falls Wisconsin on August 21st.