Anwatin Ski Team goes Bike Camping

The Wirth Park trail system has seen a lot of bikers this year: road cyclists, mud sprayed mountain bikers, and fat studded winter wheels have all torn through the park. However, the brigade of bicycles that bounced down the hill from the Nordic Ski office last Tuesday looked a little burlier than most…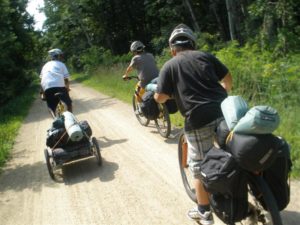 "25 miles!" exclaimed Anwatin Ski Team member Saysetha in a tone that meshed astonishment, excitement, and a bit of uncertainty. But that seemed fitting as Saysetha, along with five other members of the Anwatin Ski Team, were about embark on a cycling adventure unlike anything he had tried before: a self contained, unsupported, bicycle powered camping trip.
For all participants, this was their first bike camping trip, and four of the six had never slept in a tent before. "It's good for the kids to have a goal and work for it," explained Bianca Dawkins, a Nordic Ski Foundation intern who accompanied the group on the trip. "It was a challenge for them; it was a challenge for me too!"
Carrying gear, biking, and camping are hard enough, let alone trying to combine all three. But John Swain had confidence in his athletes and he had been planning this trip for sometime; an journey that coincided with the end of summer training and the beginning of the school year. With REI generously donating panniers and Quality Bike Parts equipping the team with racks and sleep gear, the Anwatin Ski Team was able to transform their mountain bike fleet into fine touring specimens.
The team's enthusiasm was bursting as they arrived at the Nordic Ski Foundation office to saddle-up their bicycles. Three showed up an hour early and got busy cinching their sleeping bags and sleeping pads across their bikes, each kid being responsible for their personal gear and carrying a portion of the team's food.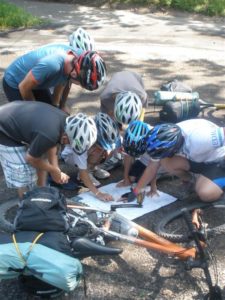 The groups threw on their helmets and took their newly loaded wheels for a spin checking for misaligned racks, rubbing panniers and lose bungees. Unaccustomed to the added weight, a few team members were caught off-guard when disembarking from their bikes. "Whoa, it is so hard to balance," Issac discovered laughing as he took a first spill the first day. Raequan, sporting his new clip less pedals, was ready for the challenge and hitched the weighty Burley trailer to his bicycle carrying all the tents for the group.
Gathering around the map, the group traced their fingers along their route. They would be taking the Cedar Lake Regional Trail to Hopkins where they would connect with the Lake Minnetonka Regional Trail and follow Lake Minnetonka, through Excelsior, all the way to Carver Park Reserve, a trip totaling 25 miles, each way.
"Once the kids set their sights on getting there, that was all they could think of," remarked Nordic Ski Foundation Outreach Coordinator Ingrid Remak, who also joined the group for the trip. "These were mountain bikes they were pedaling, not swift road bikes and they hardly wanted to stop, not even for food or water. And even when we got to the camp site, there was no time for relaxing. We set up our tents and immediately hit the water for some lake ski training."
Ski training involved an assortment of water relays and running games that left even the coaches panting. And that was just the beginning. After reconvening around the campfire for homemade pita pizzas, the group resumed training mode and hit the trails for an evening run.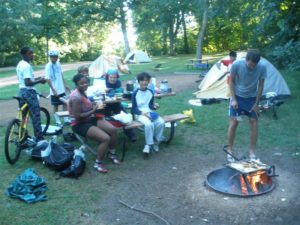 Finally back at camp and under the evening stars, the group sought out their prime s'more roasting spots, debating the age old campfire question of "brown versus burnt", and dreamed up bicycle powered water contraptions to get to Japan. As evening winded down, Coach John lead the group in a brief meditation and initiated discussion about team goals for the upcoming year. He tried to impress upon the athletes the importance of setting goals that do not depend upon the success of failure of other athletes, but ones they could pursue and achieve independently.
Ultimately, the trip was less about ski training and more about illustrating the independence one can experience on bicycles. "Bicycles are your ticket to freedom in this world," commented Nordic Ski Foundation Director John Munger who bikes to work regularly and has been bike camping with his family. "We want to provide experiences that empower these kids and let them know that anything is possible."
They next day, the bicycle brigade headed home, but not without the all important ice cream stop. For each kid the experience was something different. "I think the swimming and training in the water made me stronger," said Muaj. Glory saw the trip as an environmental statement. "It is more satisfying when you put in all the work along the way to get there. You get to stay at a beautiful campsite and don't have to worry about cars and their emissions hurting the environment."
Coming down the homestretch with the Minneapolis skyline in view, the groups met Munger on the trail. Mike and Raequan pedaled hard against the director still carrying their loads. Munger asked the boys, "Are you tired of biking yet?" Raequan paused for a moment before looking up and shouting, "NEVER!" and continued to race all the way back to the chalet.