Girls Spring Mountain Bike Clinic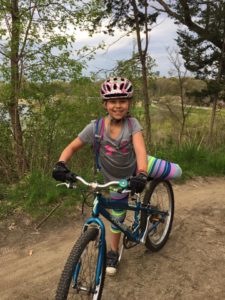 This session is for beginner to advanced girl mountain bike riders ages 7-14 years old. The goal of the clinic is to empower girls through the sport of mountain biking, emphasize the importance of goal-setting, promote healthy lifestyles and recognize the positive effects of strong female bonds. The clinic will include the following:
Safety bike check
Mountain bike skills
Riding single track trails at Trailhead!
The youth will get a chance to learn new mountain bike skills that include:
Ready/neutral position
Shifting/cadence
Control of speed
Cornering confidently
Handling any terrain
Riding with vision
Clinic Details:
When: Wednesday, May 1
Time: 6:00 – 7:30 p.m.
Where: Wirth Trail Head 
Who: Girls ages 7-14
Equipment: Your own mountain bike, helmet and water bottle.
Cost: $15
Questions: Contact Kim Rudd at kim.rudd@loppet.org
Register Now!