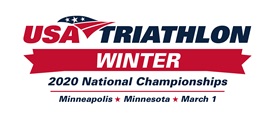 We are excited to announce that the Loppet Winter Triathlon will serve as the USA Triathlon 2020 Winter Triathlon National Championship. This will be the fifth year the race will be held in the Twin Cities (formerly in St. Paul as the King Boreas Winter Triathlon). Hosting the event at the world class trails of Theodore Wirth Park ensures viable trails into March with over 6K of ski trails with machine-made snow. The Trailhead, the park's newly-opened adventure center will serve as the race site. A triathlon relay option will also be available (not part of the national championship).
We strongly encourage the use of fat bikes for the bike leg of the triathlon. Other bikes will be allowed, but please realize that our ski trails can have a greater than 2-foot base. If the weather is warm and even just the top layer becomes soft, narrower tires may be almost impossible to ride. You can rent fat bikes at NOW Sports.
Register
A USA Triathlon license (annual or one-day) is required for this event. If you do not have an annual license, you will be required to purchase a single day license for $15 during registration. Note that each relay team member needs their own annual or single day license. To purchase an annual license, please visit USA Triathlon.
Register Now!
| | By December 15 | By January 31 | After February 15 |
| --- | --- | --- | --- |
| Individual | $90 | $105 | $120 |
| Relay | $175 | $205 | $235 |
Online registration closes at 11:59pm on the Thursday before the race. There will be no race day registration available.
Registration and transaction fees are nonrefundable, including in the event of cancellation. Registration is not transferable to another person or another event for any reason, including injury. Competing under another person's name will result in disqualification.
A Note About the Data We Collect
Proceeds from the Loppet Winter Triathlon benefit the Loppet Foundation. Learn more about the Foundation's mission, vision, and values.
Schedule
Please note that the schedule may be subject to change depending on weather conditions.
Friday
6:00pm: Pre-Ride the course with race director Jeremy Sartain. You must have picked up your packet and attached your bike number plate (or have purchased a trail pass). Meet at the back patio of the Trailhead ready to ride.
6:00pm – 9:00pm: Skiers (with race bib on in lieu of trail pass) and bikers (with number plate on bike in lieu of trail pass) may preview the course. Please be aware that a 24-hour ski/bike race will be starting around 7:00pm. Please give them space to compete and stay away from the finish line.
Saturday
12:00pm – 9:00pm: Course Preview allowed. Skiers need to wear race bib and bikers have number plate attached, or purchase a one-day trail pass. Please avoid the finish line area of the 24-hour ski/bike race and give those racers space on the trail.
Sunday
6:00am: Transition Area opens
7:45am: Race Briefing
8:00am: Race Start (Individuals and Relays start together-relays are not part of the national championship)
11:00am: Awards
Please note: timing chips will not be available for advance pickup. For best timing performance and inventory control, chips will be handed out no earlier than race day morning. If you previously picked up your bib/t-shirt, please collect your timing chip on race morning. Failure to pick up and wear a timing chip on race day will result in no recorded race time.
Packet Pickup
Packet pick-up schedule and locations will be posted 4 weeks prior to the event. Please check back at that time for details.
Please remember that you must present a valid ID and proof of your current USA Triathlon membership at packet pickup (paper or electronic membership card) unless you purchased a one-day license for this event.
Course
The course will utilize the North ski trails in Theodore Wirth Park including the machine-made loop. Please note that the course and event order may change depending on weather, snow and ground conditions. The order of events will be run-bike-ski. Though most participants choose to skate, a classic track will also be set.
Run: 5K on the snowmaking trails.
Bike: Three laps on the snowmaking trails, totaling 15K. Note that while any bike may be used, fat bikes are the recommended bike for the course. Fat bikes may be rented from The Trailhead.
Ski: Approximately 7K on the snowmaking trails. Ski technique is freestyle (classic tracks will be set on the right side of the skate deck).
2020 Course Maps… Coming Soon!
2019 course maps are below for reference.
Course Preview Information:
Friday: 6-9pm. At 6:00pm, a course preview ride will be led by race director Jeremy Sartain. Meet at the patio behind the Trailhead ready to go.
Saturday: 12pm-9pm
Due to a 24-hour ski/bike race being conducted Friday-Saturday, the Winter Tri course will not be marked until race morning. However, nearly the entire course will be conducted on the Wirth snowmaking loop. Please avoid the finish area of the 24-hour race and give those racers space and encouragement if you are on the course.
Note: All racers on the course doing preview MUST have their bib and/or number plate attached or purchase a one-day trail pass.
Aid Stations
There will be an aid station (light snacks, water/gatorade) near the transition area and finish line.
Parking
The main parking lot at the Theodore Wirth Chalet is the recommended parking option.
1301 Theodore Wirth Pkwy
Golden Valley, MN 55422
Awards
As a national championship event, USAT awards prizes to the top three finishers in every age group (17-19; 20-24; 25-29; etc). Please note that USA Triathlon (USAT) determines your age by how old you are at the end of the calendar year (Dec 31, 2020). In addition, the Loppet will provide awards to the top three male and female overall finishers, top three U16 finishers, and three relay teams (top male relay, top female relay, top coed relay).
World Qualifier
2021 ITU Winter World Championships
Location: TBD
Date: TBD
Qualification:
The 2020 national championship race offers the opportunity to qualify for the World Winter Triathlon Championship. The top 18 in each aged up age group rolling down to 30th place after applying the age-up rule will qualify. For more information, please visit USAT Triathlon or email teamusa@usatriathlon.org.
Qualification Process
World Podium: Any athlete who places 1-3 in their age group at a world championship will automatically qualify for the respective world championship the following year.
National Championships: The remaining world championship slots are allocated to athletes who compete in the respective national championship and finish in a qualifying place (see above for number of slots allocated and the roll down process per event).
Rankings: If slots are still available, any athlete who finished in the aged up age group top 20 in their age group in the USA Triathlon year end (12/31/2020) rankings will be considered for slots on the team, starting with the highest ranked athlete having first option to accept, followed by 2nd, 3rd, 4th, etc., (through 20th) until we have reached the first two athletes who accept the slot or until we reach spot 20.
Additional Details
The time allowed to claim a spot post-event will be approximately one week from the time the email is released.
All athletes eligible to represent the United States must:
Be a U.S. citizen OR
Be a U.S. national – someone who has resided in the U.S. for three consecutive years and has not competed for their country of citizenship in the prior year. Team USA eligible athletes must not have competed for their country of citizenship in the prior year. Athletes who choose to be recognized as nationals who have competed for their country of citizenship in the last year may get dispensation by obtaining a letter from the National Federation of their home country allowing competition as a USA athlete.
Results & Photos
Volunteer
The Loppet Foundation needs volunteers in all capacities supporting the athletes as they take to the trails!