Are you curious about what the Enduro Race format is all about? Well Loppet Cycle Works is here to show you what the fun is all about. Enduro is a relatively new discipline and focuses on riding timed sections of the downhill-centric, technical sections of a mountain bike trail and being a bit more chill/not timing the uphills (transitions). It rewards superior bike handling, line choice and technical prowess. But because we are located smack-dab in the flatlandia of the metro we will use what we have and call it What the FunDuro!?!. All sections will predominantly be downhill-centric but will have short punchy bursts here and there. This event will be a great way to give riders a taste for what Enduro is all about and exactly how much fun it is. It's the closest thing a race can get to being like a great day out riding with your buddies.
We will have a 5-stage advanced division, 3-stage intermediate and a single stage first-timer division so everyone can come out and experience What the FunDuro!?! is all about. And since Halloween is right around the corner we will have a costume contest for the best solo costume and best group costume. Dress up and get ready to get down…as fast as you can and enjoy a tasty beverage from Mill Valley at the Trailhead.
Register
There is no in person registration, all registration MUST be done online. The registration deadline is TBD.
Registration Closed
Race Information
Race Categories
Race categories are broken into one stage, three stage and five stage races, in order to provide every level of racer the opportunity to experience a safe, enjoyable challenge that fits their goals and abilities. We are capping the Funduro to 100 participants in total.
Format for this race will be individual start at each stage. Race/ride the stage for time and ride your own pace during the transistion (untimed section).
The 3 and 5 stage races will cost TBD and the 1 stage race will be free.
Fat bikes are welcome, though there is no separate category for fat bikes.
Checkin, Start Areas and Course
Registration check in will be in the ticket booth in The Trailhead (1221 Theodore Wirth Pkwy)
There will be 3 start areas. The 5 stage race will start on 45 North trail, the 3 stage race will start at stage 1 on the Area 36 trail and the 1 stage race will start at stage 3 on the Area 36 trail.
The race course for the 5 stage will be on 45 North, Conundrum and Area 36. The 3 stage and 1 stage race will be on Area 36. (all of these tarils will be closed to the public during the races)
Schedule
8:00am-9:45am Packet Pickup/Registration
9:45am manditory race meeting followed by guided ride to race starts
10:00am 1 Stage, 3 stage and 5 stage race get started
After races have finished (noonish) will all judge the costume contest
Parking & Transportation
We encourage biking from your house if you are able. For those who must drive, we encourage carpooling. All participants and spectators who drive should park in the nearby Mortenson parking lot. It is a short bike ride from there using the Grand Rounds Bike Trail (along Theodore Wirth Parkway) to the start area.
Course Maps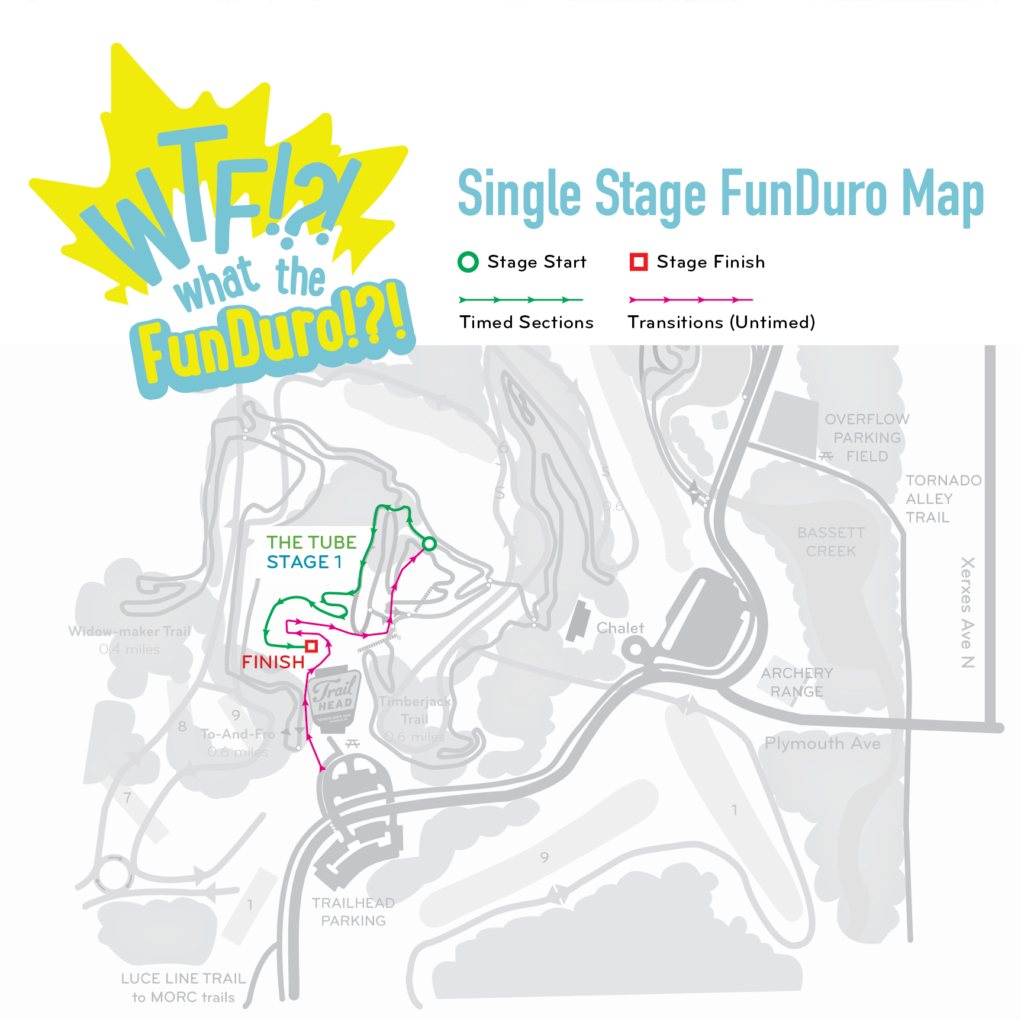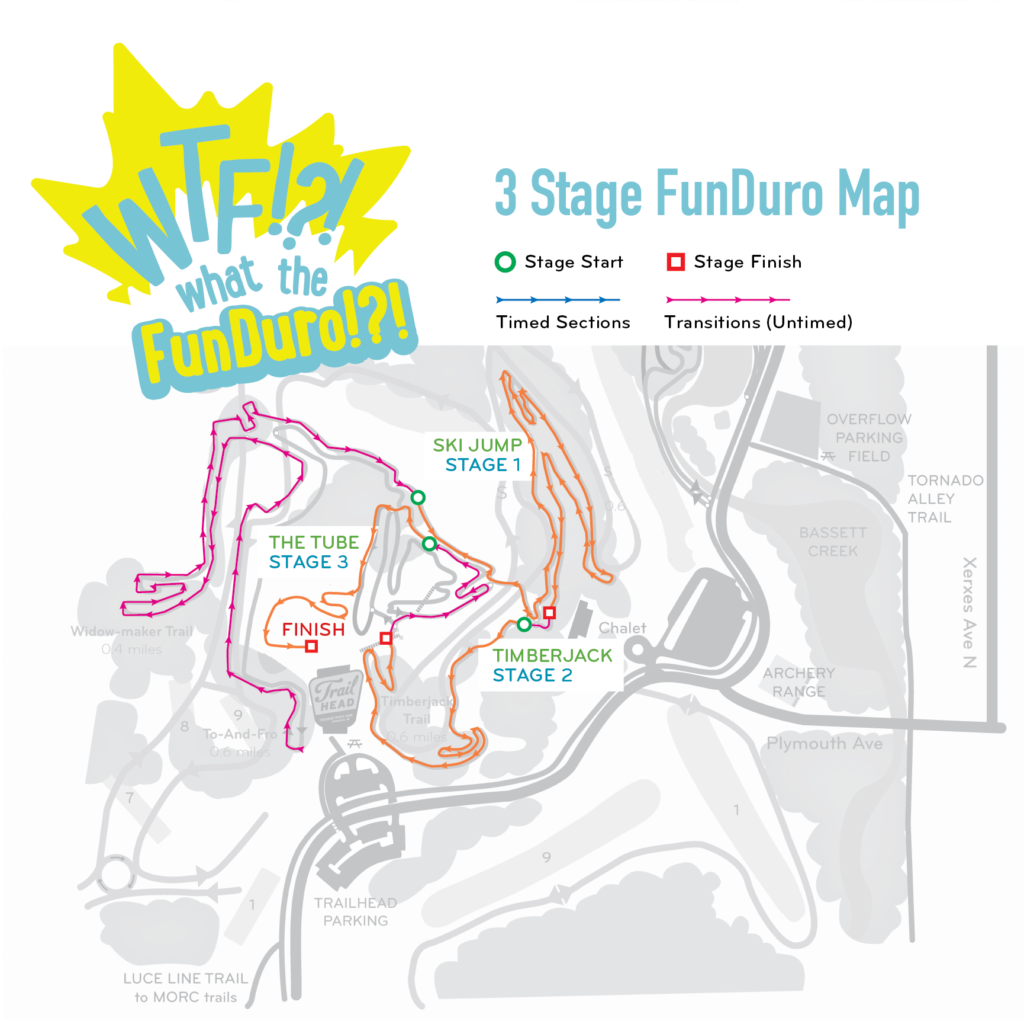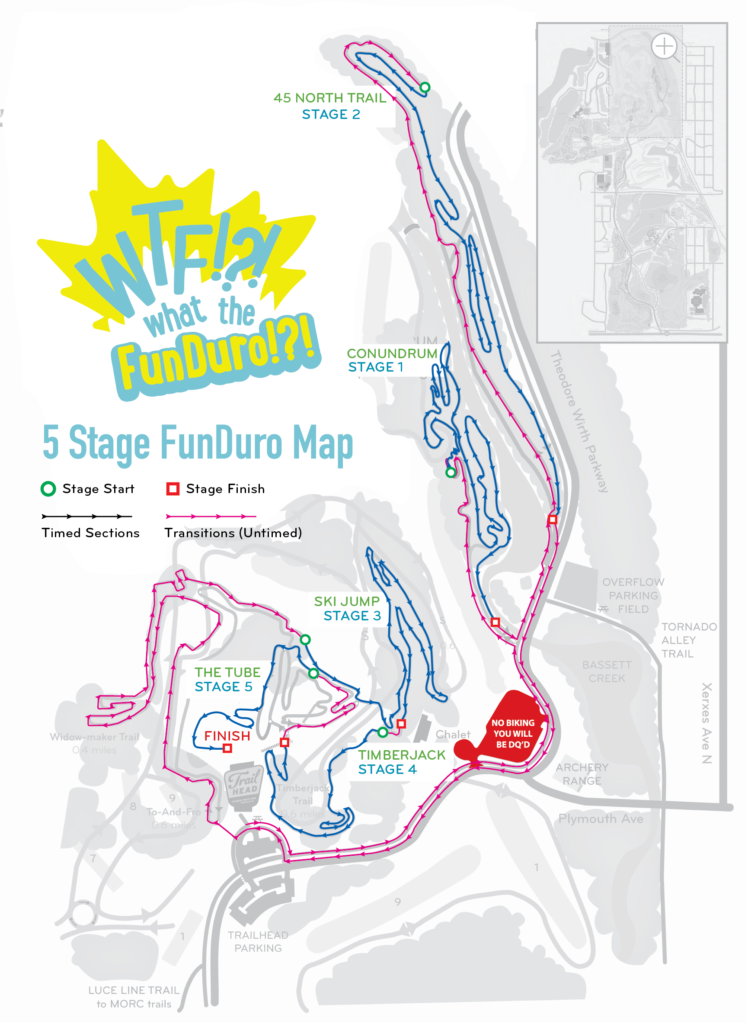 Awards and Costume Contest
This race is for funsies, no awards just bragging rights! We will giving out swag for the costumes contest.
Volunteer
The Loppet Foundation needs volunteers for this event. Please use the button below to sign up for a volunteer position. Email volunteer@loppet.org with any questions.