The Loppet Turkey Traverse 5K Run/Walk features some trails not used in our other running races during the spring, summer, and fall. Come out and explore part of the park that only the golfers are enjoying in the summer.
All are welcome: walkers and runners, young children and those just young at heart, turkey eaters and vegetarians. Whether your motivation is to win the race or just burn off some pre-Thanksgiving calories, join us as we enjoy the late fall sun (or whatever weather Minnesota wants to dish up this time of year).
All proceeds support the Loppet's mission of creating a shared passion for year-round outdoor adventure in the Minneapolis area, focusing on underserved youth and families.
Event Updates
New in 2022: DOG Wave! Canicross and dogs on leash welcome. Don't miss this chance to do the Turkey Traverse Doggo 5K! Humans get all the benefits of the regular 5K, i.e. swag shirt, drawings, etc. Time trial starts. More info soon.
We are keeping the Open Course option on Saturday (11am-4pm) for those that just want to enjoy following a course on your own schedule and pace! Open Course will not include timing or the shirt.
Some info from 2021 has been left below as FYI. More updates soon.
Register
Register Now!
Proceeds from the Loppet Turkey Traverse 5K Run/Walk benefit the Loppet Foundation. Learn more about the Foundation's mission, vision, and values.
Registration and transaction fees are non-refundable, including in the event of delay, rescheduling, or cancellation of an event or program. An event or program registration is not transferable to another person or another event for any reason, including injury. Participating under another person's name will result in disqualification.
Logistics
Race Schedule and Packet Pickup
Friday, November 18

4pm-7pm: Packet Pickup (Trailhead window – tootsie roll if you come at this time!)

Saturday, November 19

7am-9am: Packet Pickup (Trailhead window)
9:00am: 5K "Human" start
10:00am (tentative): 5K "Doggo" start
11am-4pm: Open Course (on your own)
Parking
The start and finish are both in Lower Stadium next to The Trailhead at Theodore Wirth Park, meaning if you are driving, you'll want to park in either the North or South lots at The Trailhead, or park at the Chalet lot at Theodore Wirth Park and walk or jog to the start line from there.
Ride Your Bike or Walk/Jog!
We encourage participants and spectators to bike, walk, or jog to the event on race morning. Extend your adventure and be eco-responsible at the same time! Extra bike racks will be available near the finish for the in-person, timed event on Saturday. Please bring your own lock.
Take the Bus!
Check out MetroTransit. No need to worry about parking and doing better being "green" at the same time. Visit metrotransit.org for information on bus service to The Trailhead.
Course
2021 Info for reference:
Course map linked below! Note that the distance is approx 5.4K. It is a trail run! We didn't want to cut out any of the best parts. Please note that we may need to make changes depending on trail conditions on race weekend and where the turkeys are hanging out.
The course will be marked with blue arrows, blue tape, and wrong way signs.
Swag & Awards
Swag (2021 Info)
Participants must register by October 27th in order to be guaranteed a sweat-wicking long sleeve shirt from Craft Sportswear (pictured below in women's and men's sizing). If you register after the 27th, shirts may be available on a first come first serve basis. Please ask race staff at the finish line, or email bidelman@loppet.org.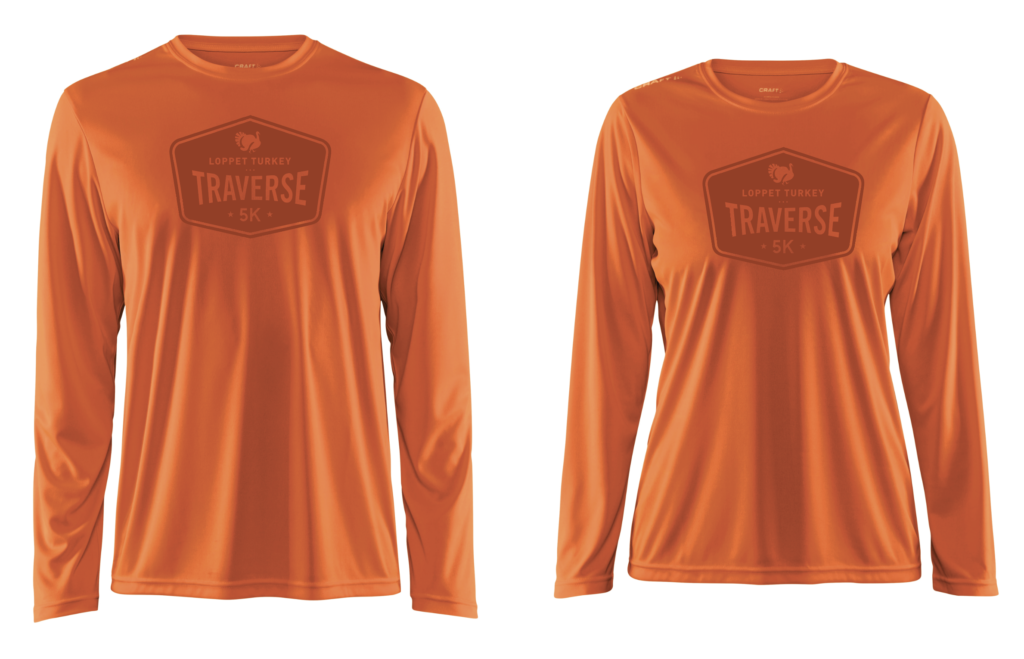 Giveaway (2021 Info)
We will have a random drawing for three $25 gift cards to Sammy's Avenue Eatery, a North Minneapolis community-minded and beloved gathering place with locations on West Broadway and on Central Ave in NE Minneapolis.
Winners will be chosen at random from race registrants.
Awards (2021 Info)
The Top 3 Overall Male and Female finishers will be awarded a Fall Foods themed gift bag.
Final results will be listed by age group for 19 and under, 20-24, 25-29, 30-34, etc.
COVID Protocol: (in person/timed event):
Please stay home if you are experiencing any of the following symptoms (CDC reference): fever or chills, cough, shortness of breath or difficulty breathing, fatigue, muscle or body aches, headache, new loss of taste or smell, sore throat, congestion or runny nose, nausea or vomiting, or diarrhea.
Results & Photos