2020 Summer TRAIL KIDS Mountain Bike Team
The summer TRAIL KIDS mountain sessions will include coached instruction from trained Loppet BIC (Bike Instruction Certified coaches) in small ability/gender groups for both the beginner to advanced mountain biker. Youth boys and girls ages 7-13 will enjoy learning new mountain bike skills and will ride on a variety of trails at three of our locations (Wirth Park, Lebanon Hills and Elm Creek Park). The summer program includes the Adventure Mountain Bike Race Series held at Wirth Park. Girls can sign up for the Monday/Wednesday Girls Rock session (girls only program) or the Tuesday/Thursday summer session which may be some mixed gender groups.
What is TRAIL KIDS Mountain Bike Program? Click following video clip and learn more: TRAIL KIDS Mountain Bike News Video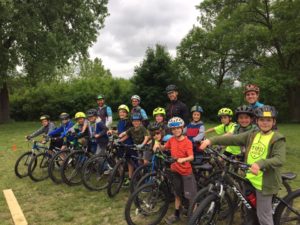 During practice sessions the youth will be coached on a variety of mountain bike skills so they can become safe and confident riders. Skills include:
Ready/neutral position for descending hills
Pedaling/shifting efficiently,
Controlling speed and braking safely
Cornering confidently
Handling obstacles and rocky terrain
Riding with vision
Racing/pacing skills
Participants will be tested at the end of the session on different bike skills and will be able to move up in levels as they progress through the summer program.
Session Information and Schedule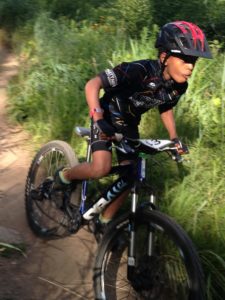 Program Dates:
All programs meet 6:00 – 7:30 p.m.
Monday/Wednesday Session, ( Wirth location only)
Tuesday/Thursday Session ( Wirth, Lebanon and Elm Creek)
Cost: $215 or $245 after June 1
Summer Fees Includes:
1.5 hour coaching sessions lead by trained Loppet coaches in the Fundamental bike skills.
TRAIL KIDS Shirts and water bottles
Adventure Mountain Bike Series (those attending Elm Creek or Lebanon Hills can attend bike races or stay at location for practice session).
Scholarships Available: Fee reductions available for those in financial need. Please inquire by email with Todd Bauer at bauer@loppet.org.
Program Locations/Maps:
Loppet TRAIL KIDS offers three different locations around the Twin Cities:
If your son or daughter would like to test drive one of the Trail Kids mountain bike sessions please fill out the below waiver form along with the name of your child, age and emergency contact cell phone and email Todd Bauer at bauer@loppet.org. If program fills before you have test drive then they may not be able to register for session.