Theodore Wirth Park Ski Trails
Theodore Wirth Park includes 23 kilometers, or about 14 miles, of groomed trail. The park includes a mix of beginner, intermediate, and advanced trails. We also have snowmaking/lighted trails.
We offer Natural Snow Ski Passes for those skiers who ski in the trail system on trails with natural snow only. All-Access Ski Passes are required to ski on any of the All-Access (Snowmaking/Lighted) Trails.
All-Access Trail Descriptions:
Hap Lutter Snowmaking Loop:
Beginner, intermediate and advanced sections. The 5.9 kilometer trail includes staging and learning areas, and snowmaking and lights throughout.
Back-40/Twin Lake Trail:
1 kilometer of wooded intermediate level skiing.
Judy Lutter Loop Trail:
2.2 kilometers of advanced level skiing straddling the 45th parallel.
Green Meadow Loop:
A 2.1 kilometer easy snowmaking loop with two easier climbs and descents to practice your skills. Good for beginner skiers.
Ridgeline Trail:
A 1.8 kilometer trail with one intermediate climb, an awesome meandering ridgeline and one intermediate descent.
La Squadra Loop:
Get ready for La Squadra! An expert descent and an expert climb covering 0.6 kilometers of trail.
Trail 18:
Trail 18 is a 0.8 kilometer long expert trail of swirling and exciting descending and climbing.
The North Finger:
0.6 kilometers of intermediate level skiing.
Natural Snow Trail Descriptions:
Bridge Trail:
1.1 kilometers. Good for beginner skiers.
Tornado Alley Trail:
1.1 kilometers of easy/flat trail connecting to the South Wirth Trails. Good for beginner skiers.
Skyline Trail:
2.2 kilometers of easier skiing with a view of downtown Minneapolis. Good for beginner skiers.
JD Rivers Loop:
1.75 kilometers of gently rolling terrain near Bassett Creek and Wirth Lake. Good for beginner skiers.
Wirth Lake Loop:
2.2 kilometers of generally flat/beginner trails that circumnavigate Wirth Lake and Jar Hill on the west side of the lake. Good for beginner skiers.
Anwatin Loop:
2.5 kilometers of hilly terrain, these trails are both beautiful and Most Difficult.
Picnic Pavilion Loop:
1.2 kilometers
Quaking Bog Trail:
0.5 kilometers of hilly intermediate to advanced terrain, this is one of the most beautiful sections of trail in Minneapolis.
Wedding Hill Trail:
0.7 kilometers
Norm Oakvik Trail:
1.7 kilometers
Erickson Trail:
0.9 kilometers
394 Ski Trail:
0.7 kilometers – This trail connects the hilly terrain of the Quaking Bog area with the flatter Chain of Lakes Regional Park. The trail is unique in that skiers cross Interstate 394.
---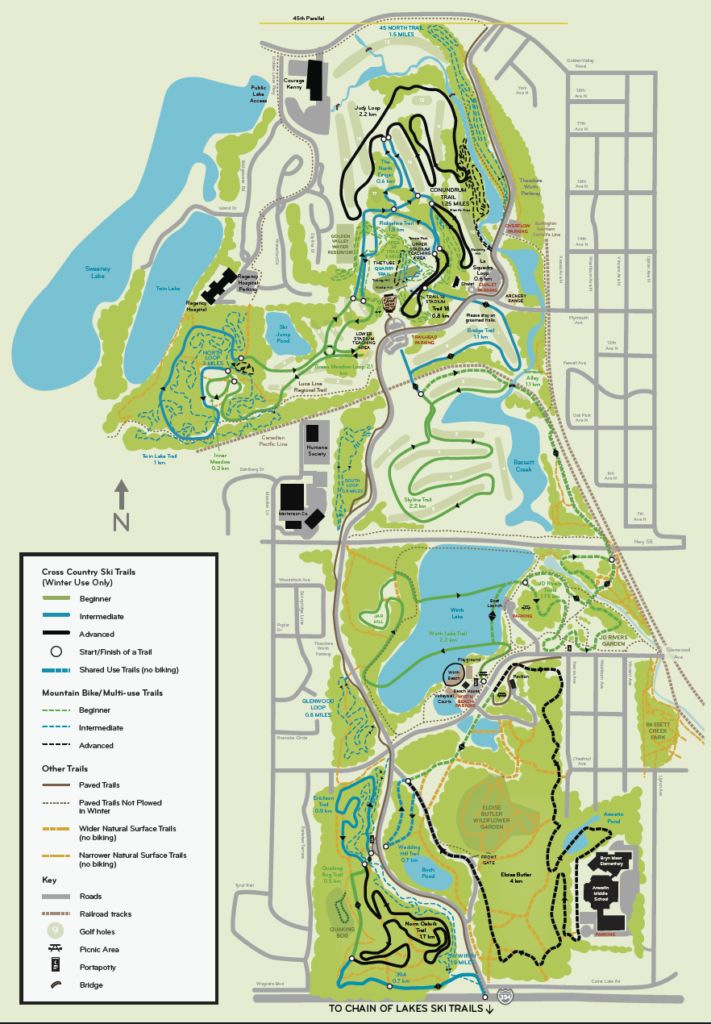 Theodore Wirth Park Trail Map PDF