North Wirth Park Ski Trails
North Wirth Park includes 13 kilometers, or about 8 miles, of groomed trail. The North Wirth trails include a mix of beginner, intermediate and advanced trails. North Wirth also includes our snowmaking trails. We are offering Natural Snow Ski Passes for those skiers who ski in the trail system on trails with natural snow only. All-Access Ski Passes are required to ski on any of the All-Access Trails.
All-Access Trail Descriptions:
Hap Lutter Snowmaking Loop:
Beginner, intermediate and advanced sections. The 5.9 kilometer trail includes staging and learning areas, and snowmaking and lights throughout.
Back-40/Twin Lake Trail:
1 kilometer of wooded intermediate level skiing.
Judy Lutter Loop Trail:
2.2 kilometers of advanced level skiing straddling the 45th parallel.
Green Meadow Loop:
A 2.1 kilometer easy snowmaking loop with two easier climbs and descents to practice your skills.
Ridgeline Trail:
A 1.8 kilometer trail with one intermediate climb, an awesome meandering ridgeline and one intermediate descent.
La Squadra Loop:
Get ready for La Squadra! An expert descent and an expert climb covering 0.6 kilometers of trail.
Trail 18:
Trail 18 is a 0.8 kilometer long expert trail of swirling and exciting descending and climbing.
The North Finger:
0.6 kilometers of intermediate level skiing.
Natural Snow Trail Descriptions:
Bridge Trail:
1.1 kilometers.
Tornado Alley Trail:
1.1 kilometers of easy/flat trail connecting to the South Wirth Trails.
Skyline Trail:
2.2 kilometers of easier skiing with a view of downtown Minneapolis.
---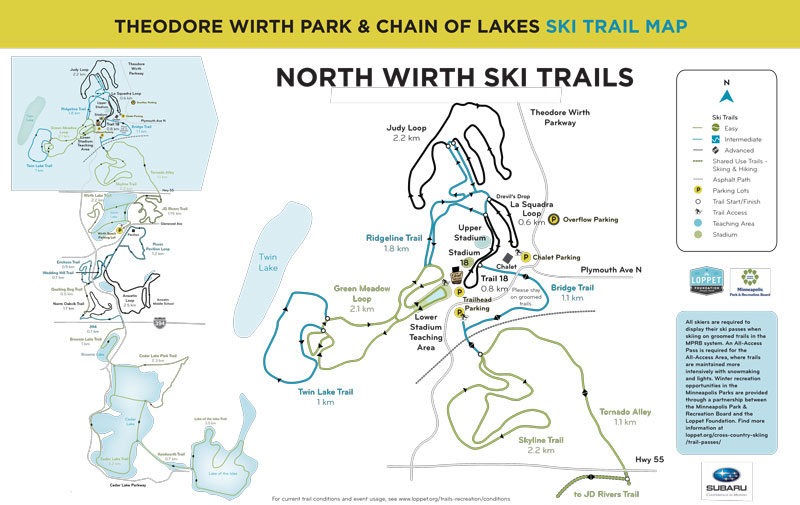 North Wirth Park Trail Map PDF