Girls Rock Spring Mountain Bike Session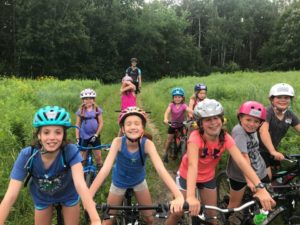 The Loppet TRAIL KIDS Girls Rock Mountain Bike Program desires to bring together girls ages 7 to 13 for a four week session to learn mountain bike skills.
The focus of the mountain bike program is to have FUN, meet other girlfriends who love to bike and build confidence riding the single track trails. This session welcomes the beginner to advanced mountain biker. Coaches will split the girls into some age/ability groups depending on the size of registration.  The main goal is for girls to get active outside through mountain biking! The summer program includes the summer TRAIL KIDS mountain bike series held at The Trailhead in Theodore Wirth Park.
The program is organized around the BICP mountain bike curriculum that builds upon previous skills learned. Girls will be broken up into groups based on age and ability. Youth will be able to ride the new mountain bike trails just built this past summer around The Trailhead building!
During practice sessions the youth will be coached by trained Loppet BIC (Bike Instructor Certified) coaches on a variety of mountain bike skills so they can become safe and confident riders. Skills include:
Ready/neutral position for descending hills
Pedaling/shifting efficiently,
Controlling speed and braking safely
Cornering confidently
Handling obstacles and rocky terrain
Riding with vision
Racing/pacing skills
Participants will be tested at the end of the session on different bike skills and will be able to move up in levels as they progress through the summer program.
---
May Session:
Spring Program Options: (Wirth location only)
Monday/Wednesday Wirth Spring Session:
Dates: May 4 – June 10 (no session Memorial Day May 25)
Session Days/Time: Monday and Wednesday evenings from 6:00 – 7:30 p.m.
Cost: $200 or 230 after April 20 (includes 11 practice sessions along with TRAIL KIDS t-shirt).
Tuesday/Thursday Wirth Spring Session:
Dates: May 5 – June 11
Session Days/Time: Tuesday and Thursday evenings from 6:00 – 7:30 p.m.
Cost: $215 or 245 after April 20 (includes 12 practice sessions along with TRAIL KIDS t-shirt).
Scholarships Available: Fee reductions available for those in financial need. Please inquire by email with Todd Bauer at bauer@loppet.org.
Ages/Ability: Ages 7 – 13 girls beginner to advanced abilities welcome (we split into different coaching groups based on ability, gender and fitness).

We do not have programs for kids 6 and under so please do not register them until they turn seven years old. If your child has good biking skills and is mature enough we may consider them to start early but you would have to email Todd Bauer at: bauer@loppet.org.