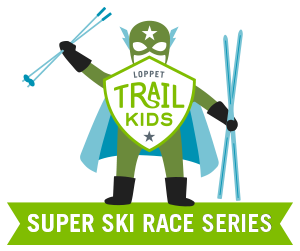 TRAIL KIDS Super Ski Race Series
Ski Race Series for Kids Age 7-14

The TRAIL KIDS Super Ski Race Series is made up of five different unique youth race events at The Trailhead in Theodore Wirth Park. TRAIL KIDS is excited to partner with Gear West Ski Shop for the winter youth race series.
The races include a youth age class skate mass start, mass start classic, skate skicross and age class relay. The race series is open to all kids 7-14 years old. Youth accumulate points by placing in their age brackets for all four Super Ski Series Races. Top three places in each age group (U8, U10, U12, U14, U16) will be awarded after the last race event.
The race series is included with the Loppet TRAIL KIDS Winter Program registration fee.
---
2020 Race Dates:
January 9: Age Class classic mass start race
January 31: Skate Sprints ( Part of the City of Lakes Loppet Festival weekend events) sign up for this race at following link since it is part of the Loppet Festival Race events: Register here! TRAIL KIDS Director will send free code by email a few weeks before the event).
February 11: Age Class skate mass start race
February 27: Age Gap classic Relay ( adult/youth relays)
March 5: Ski Cross Skate Race
Waxing service will be made available to TRAIL KIDS participants at practice the week before races, through our partners at Gear West. Learn more about their Nordic ski services here.
5:45 – 6:15: Check into coaching groups for race bib and ankle chips
Course: Start of race will be in upper stadium area and finish down by lower stadium at timing building. Course will be around 1.5 km in length. Parents can take the stairs behind Trailhead to access start area for spectating if desired.
---
Race Schedule:
5:45 – 6:00 – Race bib pick up inside Trailhead
6:00 – 6:30 Warm up for race in coaching groups
6:30 – U14/U16 Race Start
6:40 – U8/U10/U12 Race Start
7:00 – 7:15 – Cool down ski in coach groups
7:15 – 7:30 – Cookies and hot chocolate and awards
Registration:
Day-of Race Registration: $15
Full Race Series (4 race events): $40
Free for all TRAIL KIDS Winter Program participants
Series Registration Coming Soon!
---
Age Categories:
Race categories include U8, U10, U12, U14 and U16. Based on the child's birth date they are placed in one of these categories based on the following classification:
Youth are given points for the place they finish at each race event for their age category.
---
2019 Results, Standings & Photos