Part of the City of Lakes Loppet Winter Festival
Sunday, February 6: 9:00am
3000 East, W Bde Maka Ska Pkwy, Minneapolis, MN 55408
The 37K Skate Ski Loppet is the City of Lakes Loppet Winter Festival's biggest skiing event! This long distance, point-to-point event is a truly unique cross-country skiing experience. The Skate Ski Loppet takes skiers over the parkways and through the woods to a grand finish in front of The Trailhead in Theodore Wirth Park.
Skiers of all ages and abilities will be challenged and thrilled by this beautiful urban course. Go for your best time, or simply enjoy this unique ski experience that features an incredible mix of urban skiing and wooded natural trails. This event also showcases elite-level competition in the first wave that is sure to be entertaining for spectators.
New this year, participants can choose our Open Course Format, where skiers can complete the marked course on their own time (by themselves or with friends) without the crowds, mass starts, or competition structure.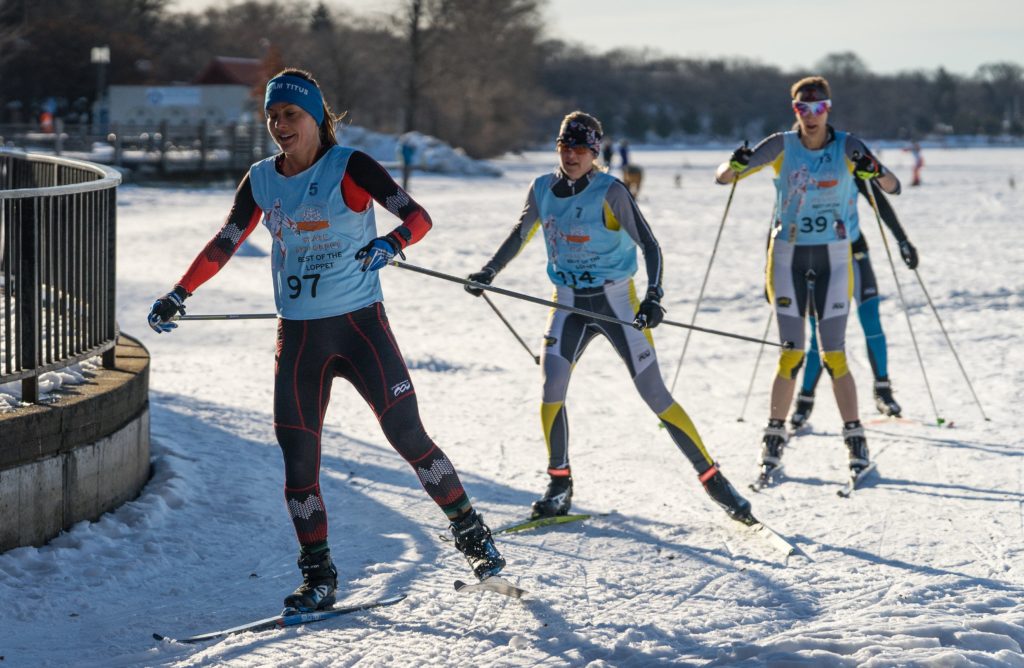 Registration
Register Now!
| | Status | Starting Opening Day | Starting 12/7/21 | Starting 1/11/22 | Starting 2/1/22 | Starting 2/3/22 | Registration Deadline |
| --- | --- | --- | --- | --- | --- | --- | --- |
| Loppet Challenge (Classic Ski Loppet + Skate Ski Loppet) | Open | $136 | $161.5 | $187 | $221 | $255 | N/A |
| Skate Ski Loppet | Open | $80 | $95 | $110 | $130 | $150 | N/A |
| Skate Ski Loppet (Open Course) | Open | $60 | $72 | $84 | $96 | $96 | N/A |
Proceeds from the Skate Ski Loppet benefit the Loppet Foundation. Learn more about the Foundation's mission, vision, and values.
Registration and transaction fees are non-refundable, including in the event of delay, rescheduling, or cancellation of an event or program. An event or program registration is not transferable to another person or another event for any reason, including injury. Participating under another person's name will result in disqualification.
Start Format and Wave Placement
For 2022, we hope to be back to our traditional three-way start format:
Best of the Loppet
Wave 1
Wave 2
Wave assignments will be posted here prior to the race and also available at packet pickup. Please note that COVID or other factors may cause us to make adjustments in the timing or number/size of waves. Be sure to confirm your wave/start when you pick up your packet.
Extra Challenges
Loppet Challenge
Want to get the best bang for your buck and compete in more races for a lower price?
The Skate Ski Loppet is part of the weekend long Loppet Challenge (Classic Ski Loppet + Skate Ski Loppet). Save 15% over registering for each race separately.
Double-Loppet Award
This "Double-Loppet" participation pin goes to all skiers who complete a 25 kilometer or longer event at both the City of Lakes Loppet and the Mora Vasaloppet in the same year.
CXC Marathon Cup
The Skate Ski Loppet is part of the CXC Marathon Cup race series. Individuals will automatically be scored for any series event in which they participate.
Awards
Commemorative medals for first-year finishers, commemorative pins for multiple-time finishers.
Awards for first three male and female finishers.
1st Place: $1000, Gear West Swix Backpack
2nd Place: $600, Gear West Swix Backpack
3rd Place: $400, Gear West Swix Backpack
The Flower Ceremony for the first three male and female category finishers will happen at the finish line podium immediately after the race. Top finishers should report to the podium within 5 minutes of finishing.
Award medal inserts for first through third place male and female 5-year age categories 19 & under, 20-24, 25-29 . . . 80+. (These may be picked up at the Awards Booth as soon as results are posted.)