Part of the City of Lakes Loppet Winter Festival
Star Tribune Skate Ski Loppet
Sunday, February 7: 9:00 am
Bde Maka Ska North Beach, 2707 West Lake Street
The 37K Star Tribune Skate Ski Loppet is the City of Lakes Loppet Winter Festival's biggest racing event! This long distance, point-to-point race is a truly unique cross-country skiing experience. The Skate Ski Loppet starts at North Beach on Bde Maka Ska, takes racers through the Minneapolis Chain of Lakes, over the parkways, and through the woods to a grand finish in front of cheering crowds at the Trailhead in Theodore Wirth Park.
Skiers of all ages and abilities will be challenged and thrilled by this beautiful urban course. Go for your best time, or simply enjoy this unique ski experience that features an incredible mix of urban skiing and wooded natural trails. This race also showcases elite-level competition in the first wave that is sure to be entertaining for spectators.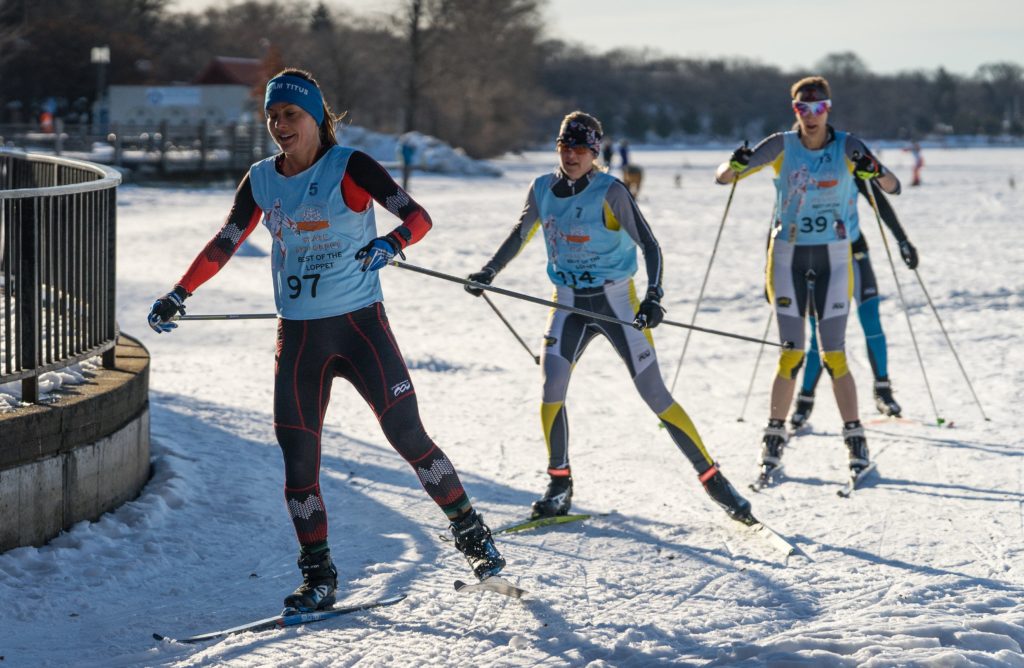 Registration
Register Now!
| | Status | Through 9/21/20 | Through 11/30/20 | Through 1/4/21 | Through 2/1/21 | Through 2/5/21 | Final Price | Registration Deadline |
| --- | --- | --- | --- | --- | --- | --- | --- | --- |
| Skate Ski Loppet (Sunday) | Open | $100 | $110 | $120 | $130 | $140 | $150 | 2/7/21 8:00am |
Proceeds from the Skate Ski Loppet benefit the Loppet Foundation. Learn more about the Foundation's mission, vision, and values.
Registration and transaction fees are non-refundable, including in the event of delay, rescheduling, or cancellation of an event or program. An event or program registration is not transferable to another person or another event for any reason, including injury. Participating under another person's name will result in disqualification.
Race Day Information
Information on point-to-point race maps and logistics, parking and transportation, registration and packet pick-up, awards, and results can be found here.
Stay tuned to our Trail Conditions page to be the first to learn if conditions-based event adjustments must be made.
Waves
The Star Tribune Skate Ski Loppet is a three-wave format. The race starts with the "Best of the Loppet Wave" which is followed by Wave 1, then Wave 2.
Race Schedule
9:00 am – Best of the Loppet Wave
9:05 am – Wave 1
9:10 am – Wave 2
Wave Placement
Initial wave placement is based upon an individual's result from the Classic Ski Loppet or the Skate Ski Loppet within the past two years, or the 2020 Pre-Loppet, whichever is best. For more details on the wave placement policy, please read this document.
Once you have registered, you may check your wave placement here (updated weekly on Mondays, so if you register on a Monday, your placement may not be available until the following week). If you wish to request placement in a faster wave than you have been assigned and have online results from a comparable ski race from the past two calendar years, please fill out this form to be considered. Requests must be received by 11:59pm on Tuesday, January 28th or they will not be reviewed. Please do not request a wave change before your initial placement has been posted.
For late registrants, if the wave you have qualified for is full, you will be placed in the next-fastest available wave. Same-day registrants will be placed in Wave 2, no exceptions.
Stay tuned to our Trail Conditions page to be the first to learn if conditions-based event adjustments must be made.
Extra Challenges
Hoigaard's Challenge, Loppet Challenge, and Minne-Tour
Want to get the best bang for your buck and compete in more races for a lower price?
The Skate Ski Loppet is a part of the Hoigaard's Challenge. Compete in either the Classic or Skate Ski Loppet, as well as the Sitka Salmon Shares CityTrail Loppet, the Tri-Loppet or Du-Loppet, and the Surly Brewing Co. Trail Loppet to complete the Hoigaard's Challenge and vie for our top prizes!
The Skate Ski Loppet is also a part of the weekend long Loppet Challenge (Classic and Skate Ski Loppets) and Minne Tour (Classic and Skate Ski Loppets + Skate Ski Sprints).
Double-Loppet Award
This "Double-Loppet" participation pin goes to all skiers who complete a 25 kilometer or longer event at both the City of Lakes Loppet and the Mora Vasaloppet in the same year.
CXC Marathon Cup
The Skate Ski Loppet is part of the CXC Marathon Cup race series. Individuals will automatically be scored for any series event in which they participate.