The event is open to athletes ages 7-14. Loppet Games is a great way to test drive what TRAIL KIDS Programs are all about! The Loppet Games will include six loppet game competitions at the NEW Trailhead!
Date: Sunday, Oct. 25, 1 – 4 pm
Location: The Trailhead, Wirth Park. Registration, awards and snacks will take place both inside and outside the Trailhead building throughout the day.
Schedule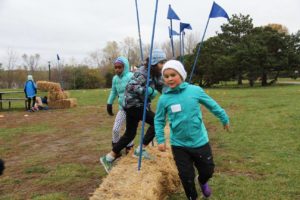 Sunday, Oct. 25
12:45 – 1:15 pm: Loppet Games registration and warm up games lead by coaches
1:00 – 1:30: Split into age group teams for mixer
1:30 -4:00 Loppet Games Events (groups will rotate through different stations every 30 minutes).
Adventure Two person running event
Double Pole SkiErg and obstacle Course
Orienteering Event
Mountain Bike skills course event (3-4 minute skills course)
Tug of War and Capture the Flag Orienteering
Snack table will be available for teams to stop by throughout the morning event.
Ribbons and candy will be handed out as prizes at teach competition station this year for top three age group winners.
All athletes registered for either the TRAIL KIDS Fall session or Adventure running series have free registration fee but must still register online with discount code given by coach in the fall. All others can register online below for $15 by October 1 or $20 through October 25. Same day registration is $20.
Adult Volunteers Needed!
The LNR Junior Competition Team will be helping lead the small age groups that will be rotating to the various events throughout the morning. We will also need adult volunteers to help with the following areas:
Set up: 8:00 – 12:00 am
Registration: 12:45 -1:00 pm
Loppet Games Event Stations: 1:00 – 4:00 pm
Snack table: 1:00 -1:00 pm
Clean up: 4:00 – 5:00 pm
Sign up here