Part of the City of Lakes Loppet Winter Festival
Freewheel Fat Tire Loppet
Sunday, February 7: 11:15 am
Bde Maka Ska North Beach, 2707 Lake Street West
The 37K Fat Tire Loppet is a point-to-point race, providing a chance to ride your fat bike on the groomed ski trails, mostly following the exact same course as the marathon skiers (with just a dash of singletrack in to keep it spicy). The Fat Tire Loppet starts at North Beach on Bde Maka Ska and ends at The Trailhead in Theodore Wirth Park. It follows the "blue" course with two deviations:
Fat Tire bikes are not allowed in the Eloise Butler quadrant of Wirth Park
Pending trail conditions, addition of some singletrack on 45 North and Conundrum
Both of these locations will have signs and course marshals directing bikers, but bikers are responsible for following the course. Note that the singletrack sections add a degree of difficulty that may not be appropriate for beginning riders that have not done this kind of riding before. The Puoli and Tour courses do not include the singletrack section.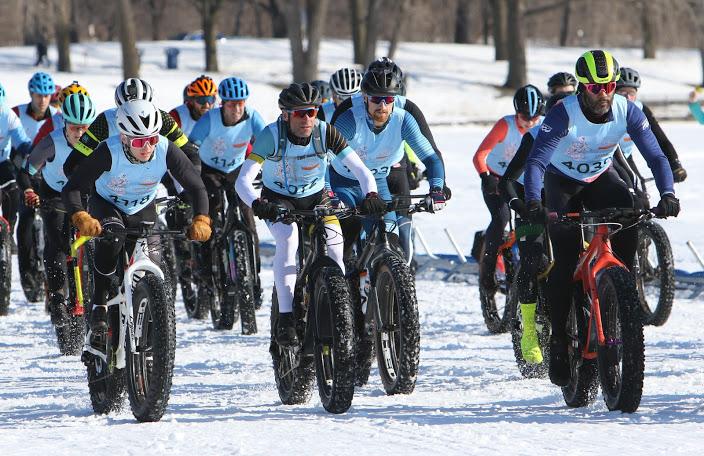 Can I use any bike?
No. We ask that participants use only fat tire bikes in order to preserve the snow trails. Fat tire bikes are defined as bikes with 3.8" tires or more and less than 10 psi tire pressure.
Register
Register Now!
| | Status | Through 9/21/20 | Through 11/30/20 | Through 1/4/21 | Through 2/1/21 | Through 2/5/21 | Final Price | Registration Deadline |
| --- | --- | --- | --- | --- | --- | --- | --- | --- |
| Freewheel Fat Tire Loppet | Open | $68 | $76 | $84 | $92 | $100 | $110 | 2/7/21 8:00am |
Proceeds from the Freewheel Fat Tire Loppet benefit the Loppet Foundation. Learn more about the Foundation's mission, vision, and values.
Registration and transaction fees are non-refundable, including in the event of delay, rescheduling, or cancellation of an event or program. An event or program registration is not transferable to another person or another event for any reason, including injury. Participating under another person's name will result in disqualification.
Race Day Information
Information on point-to-point race maps and logistics, parking and transportation, registration and packet pick-up, awards, and results can be found here.
Stay tuned to our Trail Conditions page to be the first to learn if conditions-based event adjustments must be made.